Suresh Kumar, an artist and self-appointed documentarian has documented several years of the Bangalore art scene, when collective groups and spaces were at a nascent stage.
Suresh Kumar of Samuha fame, who most people in Bangalore will recall had initiated a collective project run in 2009 in Bangalore, where over a period of one year a number of artists had slots for exhibitions in a space that was collectively rented. The project was widely appreciated and Suresh went on to present his ideas and vision about Samuha on various fora. Then, Suresh went on to video record events in Bar1, Chitrakala Parishad and Ananya Drushya (you can read more about this initiative
here
).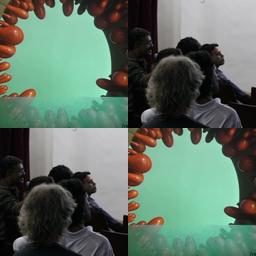 Perfumed Arts all over Bangalore
Calling it the Perfumes project, Suresh explains, "I was trying to present Bangalore artists and the scene online in a more organized way. The name Perfumes is a combination maybe of Performance and an idea of a bouquet…"
Suresh writes a detailed introduction on how he took up the role of a documentarian and how he views the current art scene, especially in Bangalore. He laments about the current state of art matters, how art students are going back to their native towns after graduation and how Suresh had to step up and adopt the role of a 'recordist'.
He has recorded events at Samuha, Jaaga, 1Shanthi Road and the government-owned Venkatappa Art Gallery. You can read about his experience
here
and then follow the link to view the videos
here
.